A few days ago, I posted a wish list of things that I hope to accomplish before I leave for Prince Edward Island, Canada.
Wish list item #1 – a haircut
Wish list item #2 – a new knitting project
Wish list item #3 – a new book
Wish list item #4 – assemble a trip itinerary
Today I have been happily perusing my to-read list on Goodreads. My to-read list is quite long, coming in at a hefty 1,756 books.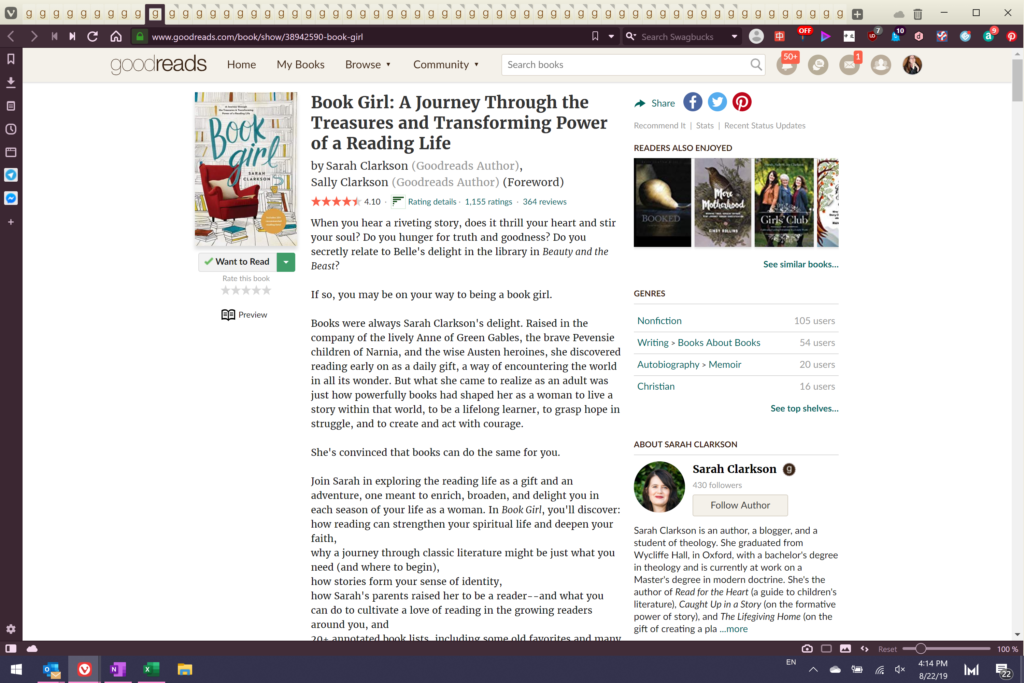 The photo above shows just how many books caught my eye today, each tab open to one book on Goodreads. I even took this screenshot after eliminating a few options. I am noticing a trend – bookstore or library themes, mysteries, historical fiction, time travel, and the occasional memoir.
I thought it would be fun to share a couple of the books under consideration in hopes that someone might chime in with, "Hey, I've read that book! It was great!" or "That one was pretty good but I found a similar book that was even better." If you look at my list and have any thoughts, please share! I'd love to read your bookish thoughts.
The Nightingale by Kristin Hannah – set in France, 1939. This novel was recommended by my bookclub as a recently written novel with tons of character development. I lean toward character driven novels rather than plot driven, though it's a huge bonus if the novel has both strong character development and a great plot!
The Heroine's Bookshelf by Erin Blakemore – essays about inspirational women in literature. I really want to read this book but I'm not sure it's a good pick for a flight and then trying to relax after a long day of traveling.
The Bookshop of Yesterdays by Amy Meyerson – a contemporary novel featuring a bookshop scavenger hunt! This might be a really fun read though the reviews are all over the place, mainly due to readers disliking the main character.
The Lumby Lines by Gail Fraser – I know so little about this book, only that it's part of a series and I know that people love the series! The cover reminds me of Jan Karon's Mitford series, which I love.
Time Between Us by Tamara Ireland Stone – time travel!! Need I say more? I know very little about this, other than the fact that it involves romance, time travel, and it's rated fairly well on Goodreads.
While writing this post, I somehow managed to reduce my overall to-read list by one. Let's see how many more books I add as I try to finalize my book decision. And if you have any suggestions, please let me know! Maybe someday my to-read list will grow to 2,000 books.