I am so excited that our countdown is finally in the double digits! Other adoptive parents have told me that when they looked back, they could honestly say that the wait went quickly. I'm not sure I would say the same thing, but it is progressing at a steady pace. Nine more days until we leave for Taiwan! Yippee!!
Yesterday we met up with another adoptive family with children from Taiwan. I was able to play (American) football with their children and had a blast. That visit made me so much more eager to travel and bring my daughter home! I want to start building memories with her.
Today we are meeting with some friends from church to have a dim sum brunch. I've never had dim sum before and am excited to try it. I think this will be our last social outing before leaving as we still have a lot to accomplish and want to try to get some solid rest before we leave.
After dim sum, we are heading to the store to return a couple of shirts we bought for my husband and try to find me a new pair of sneakers. I had no intention of buying new sneakers before our trip but I discovered last week that mine have a rip down the side. I'm not even sure how old they are. Six or seven years, probably. I knew I was going to replace them at some point but was hoping to wait a couple of months!
This evening, I'm hoping to do a trial packing run for our clothing. My daughter's suitcase is already packed but I have not tried to pack ours. I'm doing laundry this morning so that all of our clothes are clean. I want to know if everything will fit in one suitcase or if we need to bring a second or plan on doing laundry in Taiwan. I would prefer to not do laundry if at all possible, though I did find out our hotel has laundry service available.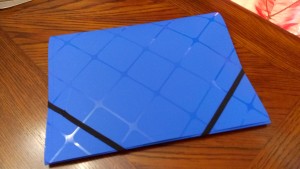 On Friday I found this lovely blue binder to hold all of our visa paperwork. It's so pretty!
Nine more days and counting!