I found such a wonderful surprise in my inbox this afternoon! My coordinator emailed and sent along an update on our kiddo! She's grown half an inch since the last update in October. I'm starting to wonder if all of the clothes we bought are going to fit her… I think they will. We bought a size larger than we thought we would need.
We also learned a couple more things she's interested in – board games and drawing! My husband and I LOVE board games so we look forward to play with her. We've found a couple board games that require little to no English and will hopefully be able to play more complex games with her in the future. We love Euro-style board games, but they require a lot of English to play. In the meantime, we'll teach her simpler ones like this cake building game I found.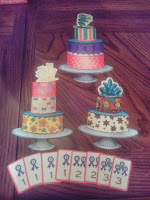 I mailed off Cin-Ru's care package this morning. It is supposed to arrive in Taiwan before our Skype call so that they can give it to her during the call. We sent her a t-shirt, a pair of warm fuzzy socks, a book, and a mosaic to put together. We are hoping that we will have time to work on the mosaic with her during the call. We sent her one of the photos and a pile of mosaic pieces and kept the others here. It's an activity that requires no English but will keep us busy for five to ten minutes if we can do the activity together. I meant to take pictures of the care package this morning but completely forgot.
Then we received another fun surprise in the mail. Letters!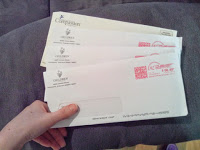 We received five letters from our sponsored kids today, four of them with photos. I love receiving the new photos and the letters! Now I have lots of letters to respond to this week. Two of our sponsored kids have birthdays next month so I need to get cards in the mail soon as well. I do my best to keep the Post Office in business!