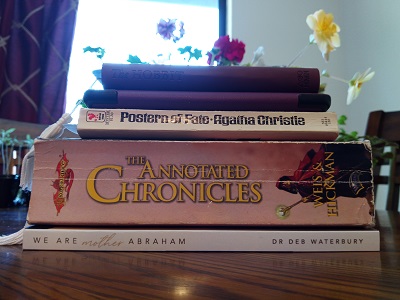 Let's talk about books! I love that no matter how calm or crazy life is, I can always find a book that will match my mood. Sometimes I can dive deep and contemplate new ideas. At other times, I just need an escape novel. Lately I've been reading mostly escapism novels but I do occasionally read a few chapters of something more profound.
Dragonlance Chronicles has been ongoing for awhile. I can't help but compare it to Lord of the Rings, which is far superior in both storytelling and writing style. My husband said that Dragonlance gets better in later books and I'm trying to give it a good faith effort.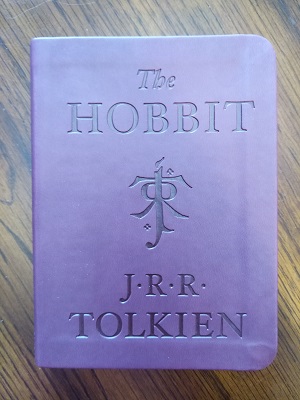 One of my Facebook book groups suggested that we read The Hobbit this month as a comfort read. I've only read The Hobbit once, back in 2016, so I am excited to reread it. I started last night and could feel myself smiling throughout the first chapter. I love this book!
I requested a free copy of We Are Mother Abraham so that I can read and review it. It's about how mothers learn to release control of their adult children. I feel this is a time appropriate read because my daughter just turned 18. She's wrapping up her senior year in high school, and even though she won't be emotionally ready to move out anytime soon, I need to learn how to let her make all of her own choices.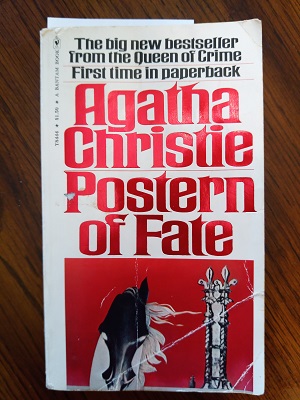 My husband and I have a stack of Agatha Christie's novels and we've been steadily working through the stack. Right now I am reading a Tommy and Tuppence mystery called Postern of Fate. The bantering between husband and wife is quite funny and reminds me of my husband and I's interactions.
Lastly, I am reading a book on my Kobo called Millionaire Expat: How To Build Wealth Living Overseas. I have no immediate plans to become an expat but living overseas is one of my Best Decade Ever dreams. I didn't choose this book because it's written for expats but because people keep raving about how well the author explains investments. We've eliminated all of our vehicle and credit card debt and are almost a third of the way done building our six month emergency fund. We need to start saving for retirement but I have an extremely basic understanding of investing. I am hoping this book will serve as a good foundation.
I don't know that I'll finish all of these books in May. I have high hopes that I'll finish reading both The Hobbit and Postern of Fate. We'll see how much progress I make on the rest of the books.
What about you? What are you reading?