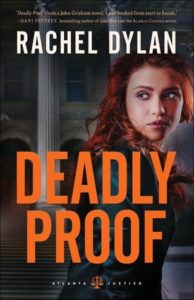 Deadly Proof
Rachel Dylan
As far as modern Christian fiction is concerned, this is one of the better novels I've read. Kate is a fairly realistic character, a woman lawyer who struggles with depression. She obsesses over her career, immersing herself in her work for long days to cope with the emotions that rise when she has downtime. Kate genuinely cares about her clients and works hard to ensure they receive the justice they deserve.
I did struggle with Kate's attitude toward her clients. It came across as if Kate would only accept clients who she believed were genuinely innocent of any wrongdoing. I don't know enough about the law industry to know if it's possible for lawyers to only accept certain clients, especially when they work in a firm and have other lawyers above them in the pecking order. Kate switched from defense to prosecution because she wanted to protect those who had been wronged. But what about those individuals who had been wrongly accused of a crime? Don't they deserve a lawyer who believes in them?
The legal aspects of this novel were extremely well explained. The author took care to explain various laws and court procedure but was able to explain things without talking down to the reader. This is difficult to do well! I appreciated that. I have read a few legal thrillers and have watched a LOT of legal thriller television and movies. So the novel didn't teach me anything new in that area but I also didn't feel as if I was wasting my time reading legal explanations for the lay person.
The romantic relationship was a bit… sappy. Landon's character was slightly girly. He is a former Army Ranger and yet his internal thoughts were not very manly. He came across more like a romcom lead than an ex-military private investigator. This made the relationship development seem cheesy and unbelievable. It felt more like how a woman daydreams about a man's thoughts toward her rather than how a man actually thinks.
Overall, Deadly Proof was a great read! I just put the second book on hold at the library and can't wait to read other novels by the same author.
Thank you to Bethany House for a free copy of this book in exchange for my honest opinion!