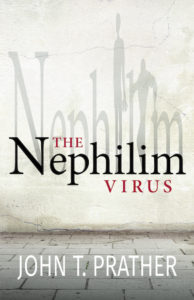 First of all, I owe a huge apology to both the author and the publisher of this book. Life got crazy, I wrote down the wrong date for the blog tour, and now I'm late in getting my review published. But I wanted to make sure I honor my commitment, though it's late, so here goes.
The Nephilim Virus, written by John T. Prather, is not my normal choice of reading material. I generally gravitate to historical fiction, Christian contemporary romance, or nonfiction. However, I've really been wanting to branch out in my reading, choosing other genres in hopes of finding some new favorites. When I saw this book available as a review copy, I decided that it was a good choice in my attempts to branch out.
Nick Reese wakes from a three-year coma to find the world he once knew is gone. An ancient virus has infected two-thirds of the world's population, turning humans into either incredibly intelligent super-humans or large and indestructible animalistic creatures. For the survivors, there is no government, no antidote, and no safety. With the help of a beautiful hematologist named Faith and a man they call the Commander, Nick must survive long enough to discover the origin of the virus and learn how his blood could hold the key to a cure. But he has to do it while being hunted by the infected. And failure means the extinction of the human race. (description from Prather's website)
The Nephilim Virus is an intense book! It is entirely plot driven and the action never stops. I'm a mom to two teens (demanding and time intensive parenting for sure!) and yet I could barely put the book down. It was suspenseful! I had to keep reading to find out what was going to happen next. Was Nick going to find the other virus survivors? Was he going to be able to save the human race or was life hopeless? Events kept happening, never a dull moment in Nick's life. I felt the novel sacrificed character development for constant plot development, but that may be more common in the thriller genre.
My only real criticism about the novel is that the ending felt entirely too rushed. Until the last 25 or so pages, I thought for sure that this was going to be a series. Then all of a sudden, the novel ended and everything was wrapped up. A sequel might have been a good idea to help the ending feel more realistic. I'm also curious if this book was written with the intent to bring it to film. The chapters were short, quick scenes that advanced the plot. Dialog was short and snappy. Since the author is also an actor, I can easily see how he could write the book intending it to someday be on the big screen.
I am definitely glad that I read this book. While supernatural thriller will never be my favorite genre, The Nephilim Virus was definitely worth the read. It's an adventure story that kept me at the edge of my seat.