Note – I started writing this post yesterday but didn't quite finish. It's written from Sabbath's perspective, even though today is Sunday.
Since today was Sabbath, we spent most of the day resting at the hotel. We were so ready for a break! I woke up at 4:30 this morning and couldn't go back to sleep. After breakfast, I rested awhile and had fun on Facebook before crashing back into bed at 9:30. I guess we aren't quite adjusted to Taiwan's timezone after all!
Yesterday, we visited a Family Mart and bought a basket full of groceries. We ate some last night and the rest today. Both breakfast and lunch were a random mix of foods but it was fun trying a bunch of new things.
Fruit sandwich! One half was peaches and one half was kiwi. I loved the peaches half. I might have to try making a peach sandwich at home.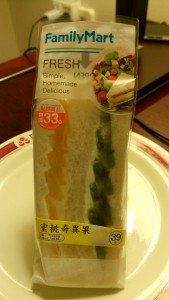 Vegetable and fruit yogurt. Really? Really! The yogurt tasted like peach yogurt.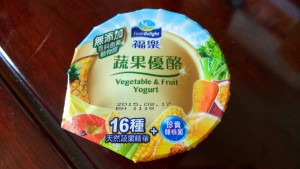 But the chunks at the bottom were corn. I never would have guessed that someone would put corn in yogurt but it was actually really good! I guess we learn something new every day if we're willing to venture out of our comfort zone…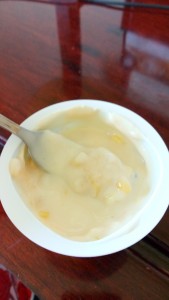 I had to post this photo on Facebook and ask about the white seeded fruit. I'd never eaten it before. The consensus was Dragonfruit! How fun! Dragonfruit is on my list of foods to try and I ended up eating it before I even realized that's what it was. I thought it was a bit bland but still good. I would definitely eat it again.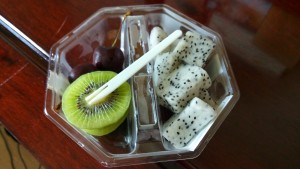 We also got this pineapple bread.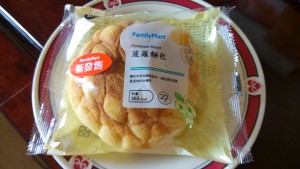 Yum, yum, yum. I want to eat this again too!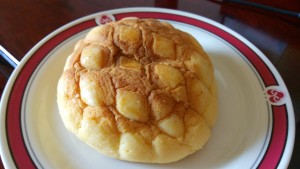 Honey milk – not something I would choose to drink straight but I think it would be really good in coffee.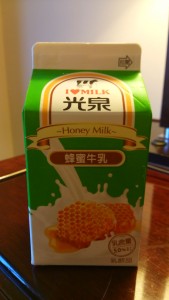 The apple bread was part of our lunch. Also a really amazing tasting pastry! I'm not usually a pastry person but we've had some amazing Taiwanese pastries.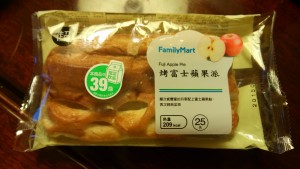 Chinese Sprite. Not as sweet as what you'd find in America.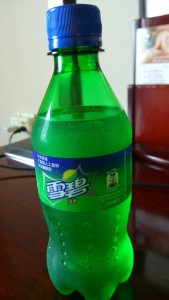 After sundown, we headed back out on to the streets in search of dinner. We stumbled across a bustling street with tons of street vendors. I wish we could have stayed and eaten dinner there but we already had a plan in mind.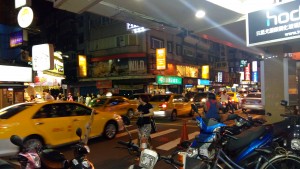 First, we located the Hello Kitty Cafe. We are hoping to take our daughter here when we come back to Taipei next week.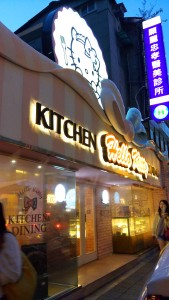 Then we ate dinner at Macho Taco, a place that claims to have authentic Mexican food. I would say it's about as authentic as what you would get at a semi-authentic Mexican restaurant in America. It's about half there but still delicious.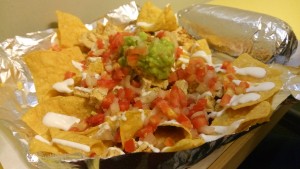 There were several protein options available for the food. I wanted nachos and my husband ordered a burrito. Both of us chose tofu as the additional source of protein. I don't know how they prepared this tofu but it was FANTASTIC.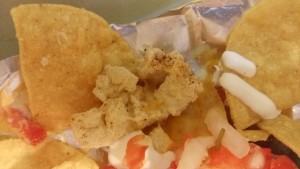 After dinner, we walked to Taipei 101 because I wanted to go inside and see what causes all the buzz about the shopping. Outside the building, they have a beautiful fountain that the kids can play in. I took a minute long video of the fountain display but will have to wait until we're back home to load it on YouTube.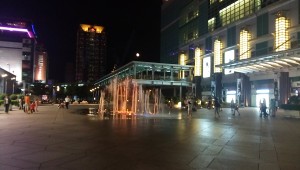 Lots of escalators! That was my favorite part of the mall.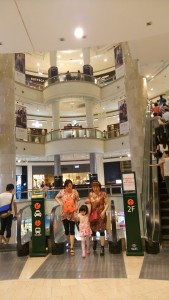 A view from the top floor looking down. It was a bit dizzying.
And the Taipei 101 mascot out front.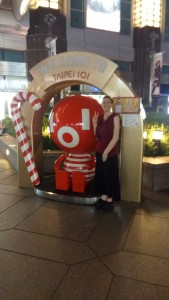 Quite honestly, I don't really see the appeal. Most of the stores were familiar to us and available at our mall at home. There were a few new-to-us stores but everything looked expensive. We power walked around each floor just to say we've been there but were happy to check it off our list.
We may go back with our daughter just to see the observatory. Maybe. My husband hates heights with a passion and doesn't want to go up. I think it would be fun but it's not on my must-do list.
After Taipei 101, we were planning to get ice cream before heading back to the hotel. However, both of us were worn out and just wanted to go to bed. We spent about three hours exploring Taipei's Saturday nightlife and I loved how busy and vibrant it all was. I really want to come back to Taiwan and spend more time living like the locals.
Once back at the hotel, we stayed up a little bit longer just so that we could sleep all night and then crashed into bed. It was a good day!