Our first full day in Taiwan was a bit of a challenge. We were tired from having intermittent sleep on the plane and then being daytime when our bodies are used to nighttime. We were so lucky that our hotel let us check in at 7AM, even though check in isn't until 3PM. We crashed on the bed and took a 30 minute nap, just to get a quick recharge for the rest of the day.
I have to say… being here in Taiwan gives me a new appreciation for what our daughter is about to go through. Being in a foreign country is tough! I am in love with the country but it's hard not being able to communicate when needed. It's hard being in another climate; it's so hot and humid here! It's hard to flip night and day. It's hard not to know anyone. (Though after a couple interactions, the concierge is my new best friend!). What makes it easier for us is that we know that we get to go home in a week. For our daughter, our home is her new home. It's a permanent change for her. It's going to be rough and I hope I can remember how the last two days have felt as she struggles with all of the changes.
We were able to exchange some American cash into Taiwanese currency while we were still in Washington. I took a picture to share how pretty the money is here!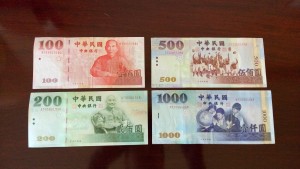 I love that they have a bill with baseball players on it. It's so fun!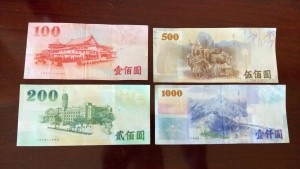 The street our hotel is located on is just gorgeous. There are trees in the center of the road and the shade is very welcome!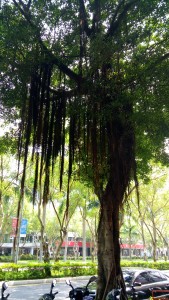 People have said there are tons and tons of scooters here and they weren't kidding! They are parked all up and down the street. We've only seen a few other Caucasians here and my husband and I attract a lot of attention. It's a bit intimidating walking across the crosswalk in front of 20 people on scooters waiting to cross the intersection. I'm self-conscious because I know that I keep getting stared at.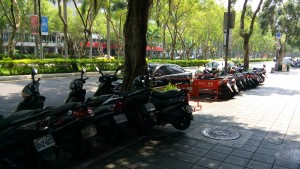 We weren't sure what to eat for breakfast so we set out on foot to see what we could find. A friend had told us about a famous traffic circle where there is an ice cream shop. We stumbled across the circle and low and behold, there was the ice cream shop! We decided to eat breakfast there, as we knew the menu would be in English.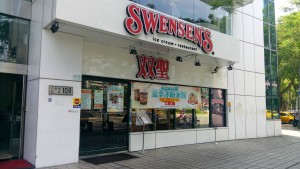 I'm not sure what kind of tea I drank but it was fantastic! My husband thinks it was chrysanthemum tea.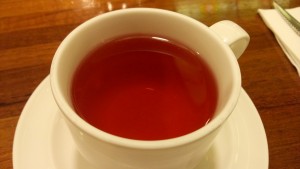 My meal was American but with a Taiwanese twist. The pancakes tasted like they came out of a Bisquick box. The scrambled eggs were pretty good. I took a bite of the mashed potatoes before realizing they had bacon in them. Whoops! The salad was the Taiwanese twist. I've never had salad for breakfast, but this was amazing! Very fresh lettuce and tomatoes and raisins and sprouts and some sort of vinaigrette. Yum!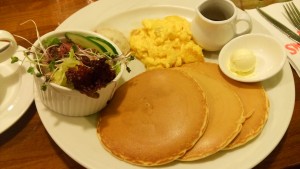 After breakfast, we decided that our first mission was to find the places we need to go next week once we come back to Taipei with our daughter. We have a Wednesday appointment at AIT to apply for our daughter's visa. So we walked and located where the AIT office is so that we will later be able to find it without any trouble. Once there, we headed a bit further and found Da'An Park, which has been recommended by a lot of adoptive parents. We hope to take our daughter there once the visa appointment is done.
When we started walking the other direction, we suddenly noticed Taipei's biggest icon – Taipei 101. I knew it wasn't too far from our hotel but we hadn't seen it yet. It was a surprise to turn around and realize it was just down the street!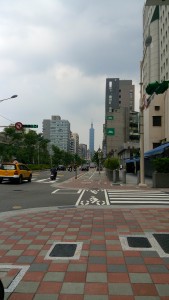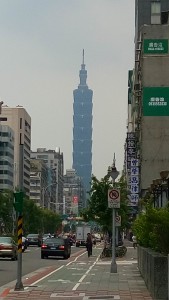 Before we left Washington, we had decided that we would visit a Starbucks in Taiwan, just to say we've been. Sure enough, we've already found three and visited one. This Starbucks was three stories tall, with the counter on the ground floor and tables and seating on the other two floors. We spent some time on the third floor, resting and enjoying our drink. I took a picture of the slogan they had displayed on the third floor wall as I think it's rather funny. "One person, one cafe, one neighborhood at a time." Yup, seems that they plan to take over the world!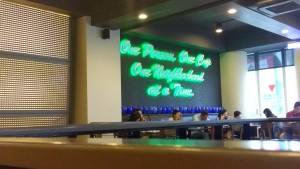 This Taipei Starbucks has a frappuccino that needs to be available in the US – honeycomb mocha. This is the best frappuccino I have ever had. I'm going to suggest to my local coffee shop that they offer a flavor similar to this one. I am in love! I would rather visit local coffee shops, but I may have to visit Starbucks once more just to get this drink.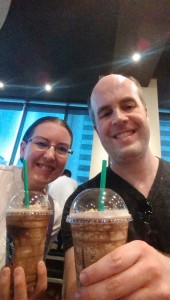 After our refreshing Starbucks visit, we were back on the streets to find Eslite, a 24 hour bookstore. It took a bit of searching but it's well worth the effort. I could spend hours in this store and I completely understand why the place was packed. There were people reading all over the store!
I found a Mandarin version of the Anne of Green Gables movie. I was so tempted to buy it but I wasn't sure my daughter would like it and I couldn't justify the price. Once I get an idea of what genre of books and movies she enjoys, I may have to buy it.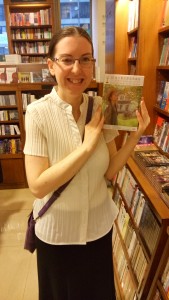 I did, however, buy this lovely book for myself! I'm hoping that it will help motivate me to keep working on my Mandarin studies. I really want to be fluent in Chinese and have so much more to learn.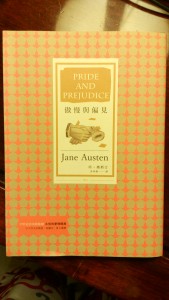 We spent some time at the hotel in the afternoon, resting from all of the walking we had done in the morning. Once we started getting hungry again, we set out for Loving Hut, a vegan restaurant. I believe that years ago, we visiting a Loving Hut location in the US and weren't very impressed. However, the Taipei location was wonderful!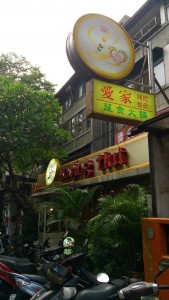 Both Jeff and I ordered Sichuanese hot pot. It wasn't as spicy as some hot pot I've had but it was very yummy. There were a couple vegetables that I have never eaten before and have no idea what they were.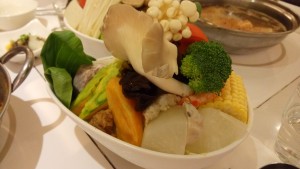 The sauce in the bottom left of this photo was amazing. They have a self-serve bar with all of the ingredients to make a custom dipping sauce and the waitress asked if I knew how to make it. I admitted that I don't, so she offered to make one for us. Amazing! I wish I knew what she put in it so that I can make it at home.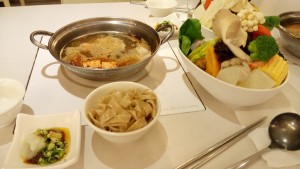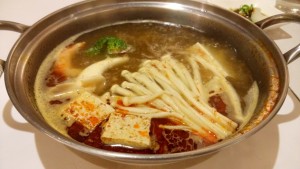 After dinner we wandered around until we found a coffee shop. On the way there, I found the biggest toad I have ever seen. I couldn't get a good photo of him before he hopped into the bushes, but I was impressed at his size.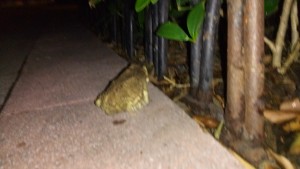 Ordering coffee was fun! The barista wasn't confident in his English skills, though I thought he was doing a fantastic job. He was having a bit of trouble understanding what size drink I wanted, even though I pointed and nodded when he confirmed. I was so close to trying out my Chinese knowledge when he grasped what I was saying. I don't know how to say "mocha" in Chinese, but I know how to say "two cups of coffee" and "size small."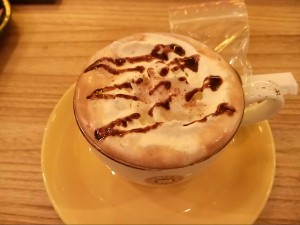 Taipei 101 is gorgeous at night!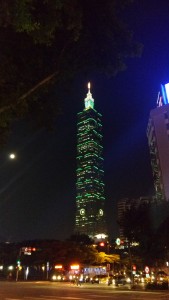 We walked all the way to the base of it but it was getting late so we decided to head back to the hotel. I wish we could have stayed but we were getting tired and still needed to walk all the way back. When I totaled up all of our walking for the day, I discovered that we had covered eight miles. That's the furthest I've walked in years so I'm happy with all of the exercise even though my feet are a tad sore!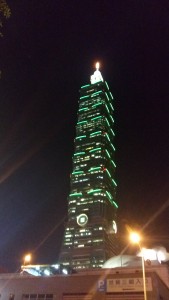 On the way back to the hotel, we crossed one of the overpasses we've seen on the Taiwanese television shows. It was fun getting to see all of the traffic passing underneath.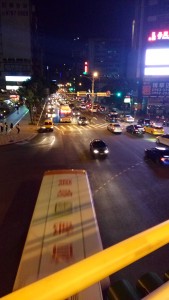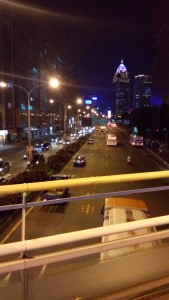 After what felt like another 20 miles, we were back at the hotel. We stayed up for another hour or so just to try to acclimate to Taiwanese time and then crashed into bed. It was a busy, busy day and an enjoyable one! I really do like Taipei and wish we had more time to explore.