FOR TODAY
Outside my window… blue skies after an unexpected thunderstorm this afternoon
I am thinking… about working on my current quilt top once dinner is complete
I am thankful… that I did not slice into my finger while trimming photos! The knife barely missed.
From the learning rooms… I finished The Hunchback of Notre Dame today and will be starting The Three Musketeers next week.
In the kitchen… waiting for the tofu to finish pressing so that I can make curry for dinner
I am wearing… blue jean skirt and a simple gray top from Old Navy
I am creating… a new quilt top!
I am going… to church tomorrow morning, the Lord willing
I am wondering… which church I will attend
I am reading… several books at the moment
I am hoping… that my hubby will have the entire weekend off from work
I am looking forward to… the Sabbath! An entire day to spend with God
I am hearing… hubby talking to his mom on the phone
Around the house… all is quiet and all is clean
I am pondering… Levitical laws and which are applicable today
One of my favorite things… quilting and my kitty
A few plans for the rest of the week… curry, quilting, and a good book
Here is picture for thought I am sharing… three sets of 9 patches are complete. Two others are partially complete.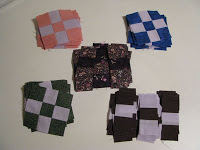 Have a blessed weekend!