I haven't done a Daybook entry in awhile and decided today would be a perfect day for it.
Outside my window… kids walking home from school.
I am thinking… how excited I am that Sabbath starts in only an hour!
I am thankful for… A God who loves me.
I am wearing… a long jean skirt, black leggings, and a purple long sleeve shirt.
I am remembering… the spiritual struggles I've been going through this week.
I am going… to study my Bible more.
I am currently reading… Slave, by John MacArthur, Proverbs, and Romans 8.
I am hoping… that I can find the answers to my questions about God.
On my mind… what I'm making for dinner and the upcoming Sabbath rest.
Noticing that… my desk is slowly getting cleaner but it still too cluttered.
Pondering these words… "Therefore there is now no condemnation for those who are in Christ Jesus" (Romans 8:1).
In the kitchen… my dishwasher needs emptied and a few hand washed dishes need put away. I'm making curry for dinner!
Around the house… very clean but needs a woman's touch… candles or a finished quilt or some art on the walls. Our apartment still looks like a college dorm!
One of my favorite things… knowing my hubby is home for the day.
From my picture journal…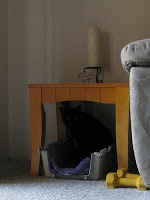 Mom, I don't know what to think about this thing you call a "kitty carrier."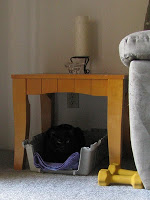 But I guess I'll lay down in it!
Don't tell him… but that's called "kitty carrier training part 1: success!"