Thursdays are my day for working on our bedroom and the bathroom where the cat boxes are located. The basic cleaning didn't take very long so I decided to tackle my clothes. Earlier this spring, I donated a pretty big pile of clothes but I knew I still had more that I never wear. Recent posts by Lara and Karen inspired me to be brutally honest and get rid of what I don't need.
These pictures aren't very good as I couldn't back away from the closet far enough to get the right angle. Sorry about that! I tried my best. Here's what the closet looked like if you're looking toward the side.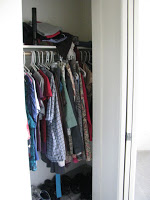 And a Before photo looking straight into my half of the closet.

All the hanging clothes piled on the bed, waiting for me to try them all on and see what still fits. The bucket at the end of the bed contained all the winter clothes I packed away earlier this year.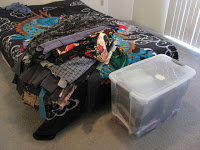 The After photo looking down the closet. Doesn't look too different.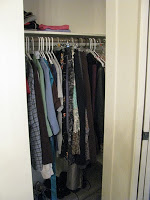 Looking into the closet. I got rid of a lot of the clothes that were piled up on the shelf. All that's left are my workout clothes and a couple pairs of pajamas.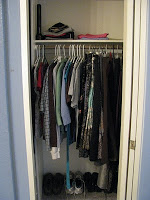 My giveaway pile, plus there were two pairs of shoes on the floor.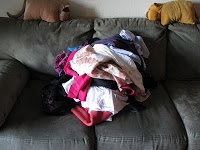 All in all, I purged 28 items of clothing from my closet and 2 pairs of shoes. Most of the clothes are now too big for me. A couple of the sweaters are still too small, but they don't meet my current standards of modesty. The sneakers are really cute but they are incredibly uncomfortable and I never wear them. Why hold on to clothes and shoes that I don't wear?
So far this year, I have eliminated 169 pieces of clothing and 11 pairs of shoes from our closets. How in the world did I end up with so much and yet I still felt like I had so little to wear? Most of the clothes either didn't fit right or I didn't like them but it's hard to get rid of things that you've paid money for. In the future, I need to be more careful that I only buy what I need and what I will actually use on a regular basis.
It feels really good now that all of my clothing fits into one closet!