Please forgive me for gushing about my husband for a moment. See, today is his 32nd birthday. It is also our 5th anniversary. It was not intentional that we were married on hubby's birthday but I had taken a vacation day to surprise him and we ended up eloping.
I am so grateful to God for placing such a wonderful man in my life! My husband balances me. Where I am rash, he is thoughtful in making decisions. His laid back ways are perfect for countering my go-go-go attitude. We don't always see eye to eye on decisions, but we're a good match.
I love how my husband is thoughtful, kind, loving, sincere, and level headed. He loves me even when I don't like myself. I am so blessed!
This year I'm doing acts of service for his birthday gifts. Hubby is working tonight and we're not sure what time he will be done. I promised him I'd stay up and have dinner ready for him when his work is finished. He had a hard time picking an entree for his birthday dinner but he was very quick to request pumpkin pie for dessert! I have a homemade one baking as I type this.
When trying to decide what I was going to surprise him with as a gift, I thought of his desk. The poor man puts up with my clutter. Somehow, tons of my paperwork, notes, and various other items had drifted over to his desk. I thought it would be a nice surprise to clean up our game shelf, remove the games we never play, move the movies to the newly open space, and dust his desk. It's so cluttered (with my junk!) that it's gotten pretty dusty.
I'm a sucker for Before and After pictures so I took some. This first photo is of our game shelf and I was half way done cleaning the middle shelf before I remembered that I wanted photos for my blog post. Oops!
(Hopefully hubby isn't embarrassed by me posting photos of his desk, but the mess is mostly mine!)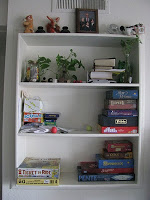 We sold the tiny bookshelf we used for storing movies and video games so they all ended up piled on the back of hubby's desk.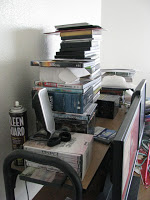 And here is the front view of hubby's desk. Now that I can see the After, I can't believe he was willing to put up with it! But he didn't complain, other than to occasionally offhandedly mention that his desk was getting kind of bad.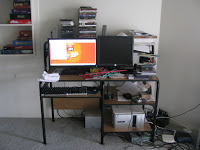 And here is the After photo of our game and video shelves. The top shelf isn't really organized yet but I wasn't sure how much time I would have before hubby came home. I'll get to it eventually.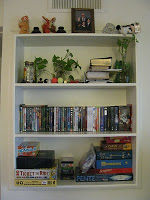 Here's the back of hubby's desk now that almost all of the videos are moved. He likes using a boxed set of DVDs to keep the speakers taller than the monitors.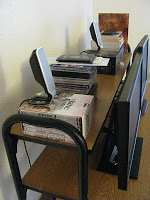 Lastly, the front of hubby's desk. SO much better!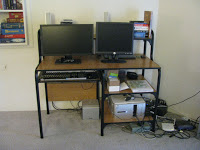 Hopefully he likes it!