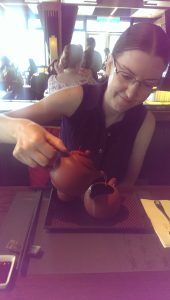 Me in Taiwan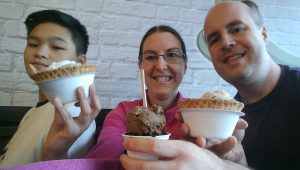 Our family now
I cannot believe how much of a difference seven pounds makes. When we left for Taiwan, I weighed about 120 and felt relatively fit and slender. Today I weigh 127 pounds and feel decidedly fat. My jeans barely fit, my tummy is flabby, and I get winded easily. I've lost the definition in my face and I'm starting to grow a second chin. Frankly, I feel disgusting. Last night I was looking at pictures from when I was my heaviest weight (187 pounds) and I do not want to look and feel like that again.
Why did I let myself get out of shape? That's easy enough to answer – stress. Our lives have been turned upside down these past eleven months. The easiest way to make yourself feel better is comfort food. So I've been indulging. A lot. And our lives are so hectic that I've not carved out time for exercise.
It's time for a change. Life is still crazy. My daughter's mood and behavior are still very unpredictable. But I have to be healthy in order to help her. I have to feel good about myself to help her feel more confident in herself. So here are my goals.
Drink water. Specifically, I'm aiming to finish two water bottles per day. Right now I'm barely drinking half of my water bottle. That means I am chronically dehydrated. Ideally, I should be drinking three, but two is a reasonable goal for right now.
Exercise. I want to run a race again. Jeff and I haven't run a race in five years. I want to register for a 5k in September. My daughter has agreed to run with me if I walk and run, rather than run the entire thing. I agreed to that compromise, but I'm going to register for a second race that I can run in its entirety. I have a love hate relationship with running, but I adore the races. Getting out there with a crowd of runners is exhilirating. I want to experience that again.
Food. I have no hope that our menu will change. My daughter is a picky eater and I don't have much time for menu planning. Plus, since she still has regular rages and meltdowns, I cannot prepare complicated meals. I need simplicity. So I'm not going to change our menu. However, I will change how much I eat. I do NOT need to finish everything on my plate. And if I'm going back for seconds, it needs to be watermelon or an apple or cucumber or something healthy and much more calorie friendly.
I think these are reasonable goals, even in the thick of our crazy life.