In all the everyday demands of life, my reading has taken a backseat. It's so hard for me to balance everything that I want to accomplish. This week I logged into Goodreads to update my reading and found this: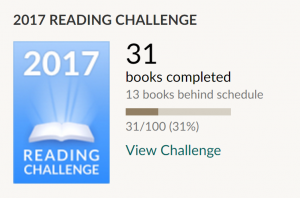 13 books behind schedule! I'm not sure that I can, nor do I want to try to, catch up with my reading goal. However, I would like to reduce some of my time wasters *ahem, Panda Pop and mindless Facebook browsing* in order to add in some meaningful reading. This week I am tackling these three books.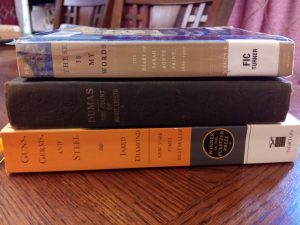 These Is My Words – A random selection from my enormous to-read list. I'm about 30 pages in and overwhelmed at the sheer number of tragedies this girl endured. I can't tell if this will be a motivational read or a depressing one. I would like to finish within a week or two.
The Count of Monte Cristo – I have a reading buddy with whom I am going to try to complete the novel. I'm trying to nudge my best friend into joining me as well! This will be a slow but steady read. We set a pace of three chapters a week and we'll see if it's the right pace and adjust as necessary.
Guns, Germs, and Steel – This one has been on my shelf for at least a year. I started reading it, completed the first third, and stalled due to life. It's actually a really interesting book so I've committed myself to reading 3-5 pages a day. That way I can continue to make progress and eventually finish it.
There are so many books out there and not enough time. Must read more!