I thought it was today, but I just realized it is actually next Saturday. Bummer! The last couple years I forgot about it until it was too late; this year I was too early. How very funny.
At least I was finally able to participate in a small way! A few years ago, someone sent me a box with quilt blocks, batting, and enough fabric for backing. I just needed to assemble the top and then quilt and baste it. Still a lot of work, but at least the blocks were already complete. The box has been sitting in my closet for awhile but I've been pulling it out recently. For this season in my life, a quilt kit is exactly what I need.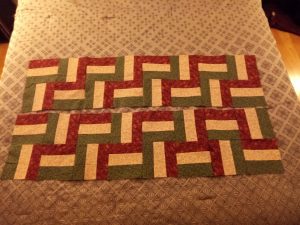 Today I sewed the second row of blocks together. It's finally starting to look like a quilt top!
Maybe next week I can sew these two rows together. If I remember National Quilting Day…