I received an email offering to let me review a new Christmas book titled Christmas Time – It's All About Jesus!. Since my daughter is newly home from Taiwan, I thought it would be fun to have a children's book about Christmas to read to her.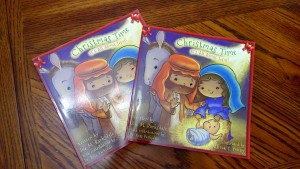 My favorite part about this book is the illustrations. The cover is beautiful and each page is colorful and cute. It's definitely a warm feeling book. The little mouse on each page was a cute touch! The story is simple while still covering all of the basics. The angel's visit to Mary. Mary visiting Elizabeth. Joseph's dream. Travel to Bethlehem. Jesus' birth. The shepherds hearing the angels' song and visiting baby Jesus.
My daughter seemed slightly interested in the story. When the book arrived, she pointed at the cover and said "Jesus." She's not a Christian and recognized that this is a story about the birth of Christ. She listened as I read and followed along. The word choice was too complex for her, though, as she is still learning English. Miracle, wonder, engaged, greeting – all words too hard for her. She was more interested in the illustrations than the actual story.
I wish the publisher had chosen a simpler font for the text on each page. It's kind of hard to read. The R's and N's look very similar and a couple times I had to pause to make sure I was reading the text properly.
I will try rereading this book to my daughter closer to Christmas, as I'm sure her English will improve between now and then. Maybe she'll enjoy it more once she can understand more of the story.
Aneko Press was kind enough to provide me with an extra copy to give away! Just leave me a comment and I will draw a winner on Tuesday, November 17th.