20 days until travel! 25 days until we meet our daughter!!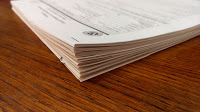 Today I finished gathering and copying and printing all of the paperwork we need for our visa appointment. I find it very ironic that she's already legally our daughter and yet we have to bring almost an inch of paperwork to Taiwan.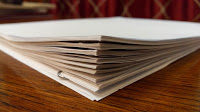 This packet is on top of all of the court paperwork, her birth certificate and family registry, passports, etc. How many trees does it take to complete an adoption? Many, I am sure!
We get paid tomorrow and I have to make a copy of our pay stub to include in this packet. Once that's done, we are ready for Taiwan! I can't wait!