DTT – Dossier to Taiwan!!
All adoption programs have a multitude of acronyms. China has this special one called DTC, or Dossier to China. I am thieving their acronym to say that we are officially DTT! Our dossier is currently en route to Taiwan. It will arrive just as the adoption agency reopens after Chinese New Year.
We are still waiting on a few things. The mayor to sign off on our girl's adoption paperwork. The Taiwan agency to finish writing their analysis of us, our girl, our interactions on Skype, etc. Then we're off to court! I can't wait!
I'm almost done with Cin-Ru's hat. I worked on it while with my knitting group this morning but had to stop because I needed to switch needles and left the DPNs at home. Whoops. All I have left are a few decrease rows and this hat will be complete.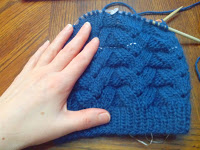 I really like how the hat is turning out. I'm going to knit myself one in purple so that we have matching hats. Like mother, like daughter. Mother. Daughter. Those two words make me want to cry with joy.