When we discovered that Cin-Ru's favorite color is blue, I decided to knit her a hat! We sent her a letter last week, in which I told her that I had started a hat and asked if she would prefer I mail it for her birthday or bring it with me when we meet in Taiwan. I promised that I would show her the hat progress on the next Skype call (this Sunday afternoon!) so I have to knit fast and furious to make sure the hat actually looks like it will be a hat!
This is the lovely yarn I found.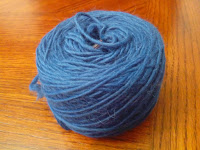 And here is the very beginnings of her hat.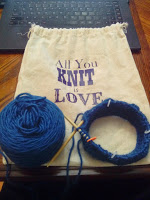 The ribbing is done for the brim and I am over half done with the first of four repeats. I don't aim to finish the hat before Sunday, but I would like to be at least half done. I have a lot of work to do!