I can't believe I haven't participated in the Nightstand link up since August! The fall and winter months have gotten away from me…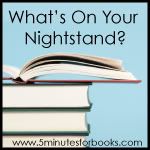 This month I have already finished a variety of books, too many to post. I'll just list the ones I'm currently reading and what's coming up.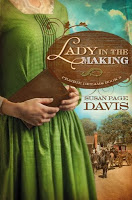 A Lady in the Making by Susan Page Davis – I'm almost done with this book, a Christian historical fiction set in the Old West. I really enjoyed the first two books in the series but this third book isn't quite as good. It's still a pleasurable read, though. Depending on the ending, it'll earn a three star review.
The Woman Who Heard Color by Kelly Jones – I'm not uploading a cover as I think it's a bit immodest. The historical aspect of this book is interesting but the modern section is boring. The book is supposed to be about an art detective but the modern sections mostly contain narrative of the events she is investigating. I don't feel a vested interest in either of the two modern day characters and thus don't understand why the book was written from two time periods. We'll see how it ends.
Adopted for Life by Russell D. Moore – So far it's a in-depth look at what adoption means for a believer in Christ. The parallels to adopting a child seem weak, but I'm only three chapters into the book. I have high hopes!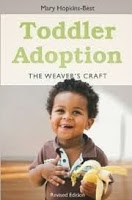 Toddler Adoption: The Weaver's Craft by Mary Hopkins-Best – This book was on a number of adoption book recommendation lists and a friend personally recommended it, even though we're adopting an 11 year old. I can see why people recommend it! It's packed with information! I literally feel like I'm wading through it. I think it's going to require a reread to really grasp everything that the author is sharing about adoption.
Up Next
Little House on the Prairie by Laura Ingalls Wilder – This book is for the Reading to Know Classic Book Club.
A Novel Bookstore by Laurence Cosse – I have no idea where I first came across a mention of this one but I love books about books!
Happy Reading!!