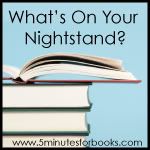 With everything that's happened in the month of December (my husband being gone a weekend, a two day trip to Phoenix, Christmas, couch shopping, etc), I'm surprised that I finished so much. Most of the reading was fairly light because I was trying desperately to finish The Brothers Karamazov by the end of the year. Success!
As always, links are to my full reviews on Goodreads.
Bible Reading
Christian Fiction
A Time to Heal (Quilts of Lancaster County, #2) by Barbara Cameron – 3 stars. An easy weekend read.
Ten Thousand Charms (Crossroads of Grace #1) by Allison K. Pittman – 3.5 stars. Similar to Redeeming Love by Francine Rivers, though not as well written.
The Missionary by William Carmichael, David Lambert – 2 stars. Maybe a guy would like it better? Tons of action and no character development.
She Walks In Beauty
by Siri Mitchell – 3.5 stars. Another solid read by Mitchell. So far, all of Mitchell's books have been good.
Courting Cate by Leslie Gould – 3.5 stars. An Amish setting of a modern retelling of The Taming of the Shrew.
Before the Season Ends by Linore Rose Burkard – 3.5 stars. A Jane Austen style read, though not as good. Very clean period romance.
Classics
The Brothers Karamazov by Fyodor Dostoyevsky – Unrated for now. I finished this classic last weekend and am still putting together my thoughts. I didn't really enjoy the story but I thought the author included some timeless observations about morality, society, and everyday life.
General Nonfiction
Think Like a Cat: How to Raise a Well-Adjusted Cat–Not a Sour Puss by Pam Johnson-Bennett – 4 stars. A great cat care book.
The Older Cat: Recognizing Decline & Extending Life by Dan Poynter – 1 star. A horribly written and poorly organized book on caring for an older cat.
Memoir
Secular Fiction
The Giving Quilt: An Elm Creek Quilts Novel by Jennifer Chiaverini – 4 stars. Finally! I was wondering if Chiaverini had written too many books in this series but this was a fun read, way better than the last two.
Currently Reading
I hope to finish the Christmas collection and possibly one more book before the end of the year. I have fun plans for my 2013 reading and can't wait to start!
Happy January reading!