Hubby informed me last night that he'd be out all day today. Normally, he's home working all or part of the day so this was unusual. I decided to embrace the quiet house and get a ton of stuff done. I promised hubby that he'd be impressed by my productivity when he got home. I think I succeeded, though he's not home yet to confirm.
Today, I…
vacuumed,
swept the kitchen and the kitty box room,
washed dishes,
cleaned out the fridge,
tidied up the entire apartment,
finished a memoir I was reading,
studied Japanese for over an hour,
made a more fancy lunch than normal,
made huge progress on my quilt,
returned some emails,
updated the budget,
completed two loads of laundry,
and a few other small things.
Whew. And since hubby is still not home, I'm writing a blog post. I love productive days! Once I'm done with this post, I'll either spend some more time with my Japanese studies or keep working on my quilt. Hubby is working way up north today so when he calls to tell me he's on the way, I'll still have enough time to prepare dinner.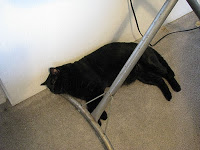 Bruno under the ironing board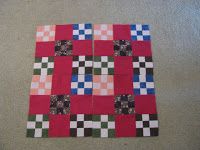 4 blocks complete!
8 more D9P blocks to sew together. There will be 12″ solid blocks of the dark pink fabric between each of these D9P blocks. I haven't cut those out yet, so I can't show what it will look like. This is a new pattern for me and I think I like it. I'm not sure about all the fabric choices, but the pattern is fun.
Here's to a day of great productivity!