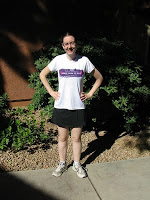 Awesome tech shirt from today's race and my running skirt
I'm not sure if this post will be interesting to anyone other than myself but I love race reports. I finally have a chance to write one!
Pre-race
I started training on April 18th, after 6 months without running. Before I stopped running last year, I reached 3 miles on a training run and quit. Why? I think it was mostly laziness. I had an off day and then never got back into the schedule. Hubby encouraged me to pick a 5k this summer and train for it as a way to get down to my goal weight. I picked June 12th as I thought I could get in shape fast enough. We registered for the race and started training.
Between April 18th and today, I logged 20 training runs. My longest training run was 4.18 miles, a day I had energy to burn and decided to see how far I could run before running out of energy. All in all, we logged 42.83 training miles.
Last night, I was excited but nervous about the race. We've participated in other 5k's before, but I either walked or walk/ran them. This was my first attempt to run the entire race. I went to bed around 10:30 and planned on getting up at 5am. It's not the optimum amount of sleep but I'm used to going to bed around midnight on Saturday night.
It was a terrible night of sleep. I woke up so many times and had a hard time falling back asleep each time. When the alarm finally went off, I was grumpy and nervous about what the lack of sleep would do to my ability to finish the race running. We left the house at 5:30 and arrived at the race site at 6.
Going into the run, I had one goal – to finish. I was not really concerned with times, figuring that I could try to beat my time in future races. The only important thing was to run the entire race and finish. For my next 5k, my goal was to finish under 40 minutes. However, this race was supposed to be all about actually finishing.
The race
The race itself started off with a bit of a whimper. We lined up toward what I thought was the back of the pack. Hubby planned on running this race at his own pace so I knew I wouldn't see him again until after the finish line. The gun went off and I wondered if that was the beginning. We were far enough back that I couldn't really see the starting line and I wasn't sure if it was actually happening! But soon, the crowds started moving and I crossed the starting mat.
I immediately turned into Moses parting the Red Sea. Even though I thought I had lined up near the back, it turns out that a crowd of people had lined up right after we did (only 2 or 3 minutes before the race started). Though I tried to stay out of the way, I was passed by a ton of runners on both sides. Even moving to the edge of the path, I was still getting passed on both the right and the left. That was rather discouraging, seeing myself get passed by at least 100 people right off the bat.
Thankfully, I very quickly settled into my own comfortable pace. I've read numerous stories of runners starting off too quickly and paying for it later in the race. I've only ran 3+ miles several times in training and still lack the confidence that I can actually finish. So, I found what I thought was my comfortable training pace and settled in for the run.
Mile one seemed really long. Each of the races we'd previously participated in by this running company were mostly on dirt. I was anticipating that. It just felt like a long mile and I had assumed that I missed the sign. Nope! I finally passed the sign for Mile 1. I had already been passed by what seemed like hundreds of runners and was already feeling the effects of running on a dirt trail when I'm used to sidewalk.
Mile two went by faster. We ran out a long straight stretch of trail and found a water station at the very end. By this time, I was extremely thirsty. Even though I hadn't planned on stopping at a water station, I walked through it and took a quick drink of Gatorade (bleh). It was the first cup available and I didn't really care at the time. Drank that and quickly went back into a run.
After the first long stretch, the rest of the run was curvy and very mildly hilly. There were 4 or 5 gullies that we had to run down and up out of. My training is entirely on sidewalk and it is relatively flat around my house. I had to walk up half of these gullies and I wasn't sure if that alone disqualified me from claiming to have run a 5k. The walk times were all extremely short, maybe 15-20 seconds each. I just couldn't force myself to run up the steep sides of these gullies. Somewhere in this stretch, my side started aching like it did during several of my training runs. I concentrated on something other than the pain and realized at the finish line that the side ache had disappeared at some point and I hadn't even realized it.
Mile three went pretty well. I was playing leap frog with four different women, passing them while they were walking and being passed by them while they were running. At the end, one of them left me in the dust, I barely beat the pair of ladies immediately behind me, and the fourth lady had disappeared. During the last half mile, several really nice and fit runners were running the course backwards and encouraging those of us who were still out there. I almost cried when one of them said we were almost there and were doing a great job.
I reached the final corner and was informed by a bystander that the finish was just around the corner! As soon as we rounded the corner, I could see the finish line and started picking up the pace. I spotted the clock and saw that it was nearing 41 minutes. I had passed the start line at 1 minute and change. Could I possibly reach the time goal I had set for the next 5k? I sprinted as hard as I could but my legs were pretty tired. Those "hills" had worn me out.
I crossed the finish line at 41 minutes and change. Had I done it? I finished! I had run almost the entire race, other than a few steps at the water station and several of the uphill portions of gullies. I was going to count it as a completely run 5k, as I didn't require any walk breaks on the flat or the downhill. Did I beat my goal for the next 5k of coming in under 40 minutes? No way to know until the results were posted online later today.
Post race
I found my hubby right after crossing the finish line. He was standing with his boss, who we had invited to run with us. Boss had only run marathon races before today and we wanted to give him a taste of the smaller races. Both of them were pretty happy with their runs and were awaiting official times.
We went through the food line but I only took several slices of watermelon. The bagels might have been vegan but I wanted to hold out for food at home. On the drive home, I mentioned to hubby that a big veggie sandwich from Subway sounded really good. He agreed so we stopped by at the Subway by our house. I was right. That sandwich totally hit the spot, even though I wasn't used to eating subs at 8:30 in the morning!
Official times –
Gun time: 41:15
Chip time: 40:02
Pace: 12:54 minute miles
I just barely missed the 40 minute mark. Bummer! That's ok. I wasn't aiming for it. If I had known that I was that close to 40 minutes, I could have started sprinting just a couple seconds earlier. I didn't know, so I'll get it next time! All in all, it was a good race and I'm glad I ran it!
(As a side note, I started running again to lose the last couple pounds needed to reach my goal weight. Well, I passed my goal weight and am now 5 pounds below that. Obviously my goal weight isn't my ideal weight as I'm still losing even though I eat a ton! Hopefully I can trim the fat a bit more and develop a bit more toning.)
We're now registered for a race on July 4th, a 4 miler. So far, I've only run that distance once so I will just be aiming to finish the race; no time goals. In August, I'll run another 5k and try to beat the 40 minute mark. I can't wait!