I am so excited. Finally, after much delay and a bit of procrastination, I have finished my first set of pillowcases (used this pattern). The first one was completed several weeks ago, but I procrastinated on finishing the second pillowcase and then took an emergency trip to Texas.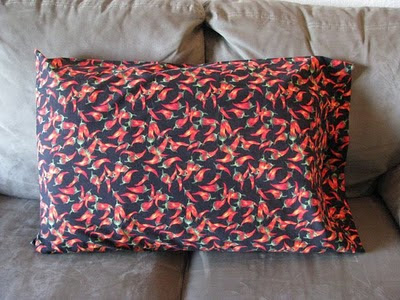 The picture is the pillowcase I finished this afternoon. They're matching, so I saw no need to set up the other and take a picture. 😉
I bought this fabric years ago, I think while I was still in high school. My plan was to sew two pillowcases for my brother, as he was obsessed with using chili peppers to decorate his bedroom. I don't know why I waited so long to start these, but hopefully he still likes them. If not, he will at least appreciate the humor in his old decorating taste.
If I have the time tomorrow, I'm going to hand wash the fabric for my grandpa's quilt. Then I can start cutting out all the squares I will be sewing together.