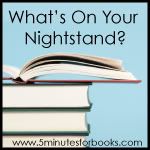 I love 5 Minutes for Books. My library to-read list is huge because of the book reviews. I currently have 258 books on my list and it grows almost every day.
For January, I plan on reading:
Fiction
A Confederacy of Dunces by John Kennedy Toole (my hubby's recommendation)
The Swiss Family Robinson by Johann David Wyss (I've seen the movie but have never read the book)
Memoir
Eat, Pray, Love by Elizabeth Gilbert
A Year in Provence by Peter Mayle
Nonfiction
The Complete Idiot's Guide to Fondues & Hot Dips
Rotary Magic
The Jane Austen Handbook by Margaret C. Sullivan
Miss Manners' Guide to Domestic Tranquility by Judith Martin
I will probably read more than this, as I usually finish a book every two to three days. But this list covers the bare minimum of my reading list.