My Bible study group was discussing Thanksgiving plans. None of them have family locally and they can't afford to travel this year. Someone suggested that we all go to a buffet that day.
Well… I'm from Wyoming. I'm also old fashioned. In my mind, you just don't go out to eat on Thanksgiving! You go over to someone's house, or have people come over to yours, and eat a really tasty homemade meal. I called the Bible study host and asked her if I could cook for everyone. Since I'm at home, I have the time to prepare a meal for 6-8 people provided I don't have to cook a turkey! I'm vegetarian and have no idea how to cook meat. 🙂 Everyone thought that was a great idea, so now I'm looking for ideas.
I spent almost an hour going through a bag of recipes. Some of the recipes were typed on a typewriter, others torn from a magazine, but I was looking for one particular handwritten recipe – these really yummy oatmeal muffins that my mom used to make. I didn't find the recipe. When I talked to my mom later, she suggested I search the web, that it was an old recipe from a Laurel's Kitchen cookbook.
Silly me… I have that cookbook!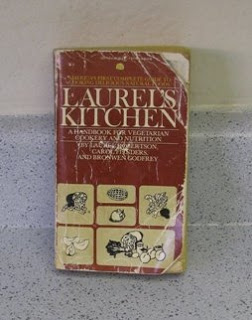 I think I'll bake a test run this weekend, see if they taste as good as I remember.