I have now read every single one of Julie Klassen's books. On her About Page on Goodreads is this description – "Julie Klassen loves all things Jane—Jane Eyre and Jane Austen." Yes! I can tell! So when I received an email from Bethany House that Klassen's latest book is available for review, I snatched it up and was not disappointed.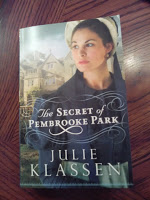 I started reading this book and could barely put it down. It's longer than most Christian historical fiction, coming in at 456 pages. Even being a longer book, I felt there wasn't much filler. The story was great, about a "spinster" whose family loses their fortune so they must move into the country. They move into an abandoned house, one filled with the servants' whispers of tragic events that happened years ago. The rumor is that there is a treasure hidden somewhere in the house. Is the rumor true? Is Abigail going to be a spinster or will she marry?
Parts of the book were cheesy, mainly Abigail's romantic interludes. But the treasure hunting aspect of the story and how Abigail seeks to uncover her home's past, were delightful. While I can't label this a classic that I'll be returning to, Klassen wrote another fantastic weekend read. I just discovered that she has another book scheduled to come out next summer and I can't wait!