I have been spending all of my time cleaning and sorting through JUNK in the spare room. I am determined that the room will be clean and organized by the end of next Tuesday. I have 4 working days. Instead of keeping up with the dishes, vacuuming, etc., I have done nothing but cook and clean the spare bedroom. I'm resorting to using the dishwasher during the week. *gasp*
Here is what our spare bedroom looked like on Sunday morning: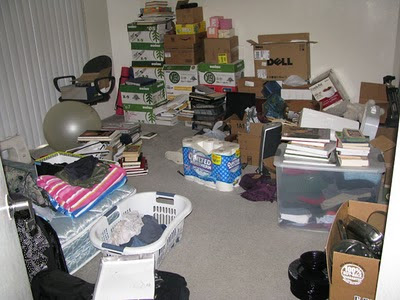 And this is not the worst it has ever looked… Here is our spare bedroom at the end of today: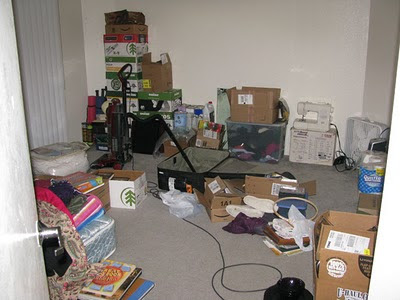 Much better, but it is still ugly. Here is what our "dining room" looked like a couple hours ago: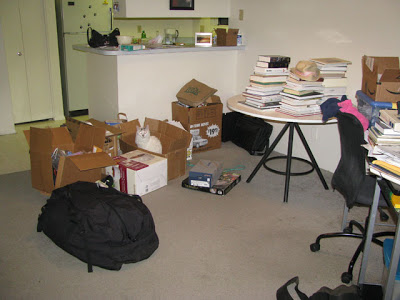 This is how much stuff has to still get moved out of our apartment and I'm not even done in the spare bedroom. We've already dropped off four boxes of books, several boxes of clothes, and hubby took out three boxes of trash right before I snapped this photo. It really is disgusting! Every time a box of books or clothes or JUNK leaves the house, I feel a little bit more relief. That is less JUNK I have to pack up and move someday. That is less JUNK that I have to organize or clean. That is less JUNK that I have to rummage through to find what I'm looking for. If it's been boxed up or stored away for the past four years, we obviously didn't need it.
So I am making a lot of progress. I've been keeping a running tally of how much JUNK has been carried out of here and I will post it once I've finished with the spare bedroom. All of that money wasted. All of that time we've already spent carting it from one residence to another. All of that eyesore. And I still have to tackle the spare bedroom closet. Ugh.